The Knuckle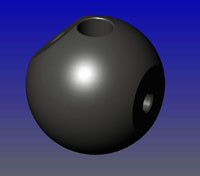 Downloads
PDF
Solidworks
IGES
The Knuckle, our part number KN-1, provides a method for mounting the CMM calibration sphere. It is machined with a clearance hole for an M10 or ⅜" hex head cap screw. It is a made from a sphere with a flat at 90 degrees and a flat at 45 degrees. There is an M10×1.5 threaded hole in the center of each flat.
It can be mounted directly on the CMM table, or it can be mounted on top of any length of our standard extension ( riser ).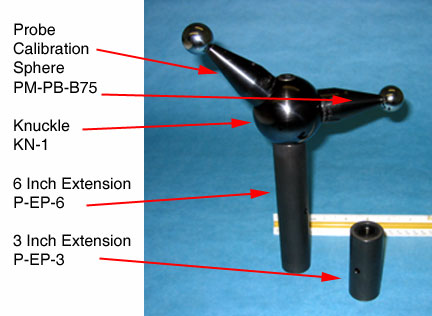 The simple knuckle is part number KN-2. This version of the knuckle is designed for use in machine tool environments. This version doesn't have any chip or collant catching cavities. The spherical outside diameter has a completely uniterrupted surface. Other than this feature, it has the same dimensions as the standard knuckle. The through hole and the counter bore are simply eliminated.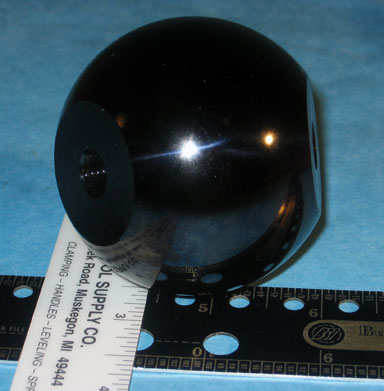 | Part # | Description | Price | Purchase |
| --- | --- | --- | --- |
| KN-1 | KNUCKLE, THE | $74.80 | |
| KN-2 | KNUCKLE, SIMPLE | $74.80 | |
| P-EP-3 | EXTENSION, 3 INCHES, 1 1/4" DIAMETER | $38.15 | |
| P-EP-6 | EXTENSION, 6 INCHES, 1 1/4" DIAMETER | $39.44 | |
| PM-PB-B75 | PROBE CHARACTERIZATION SPHERE, STAINLESS STEEL, 19.05 MM, 0.75 INCHES | $253.00 | |