Standard Commercial Balls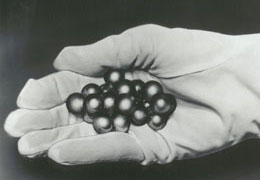 We carry a large inventory of standard English and metric ball sizes. This inventory includes Chrome Steel, Hard 440c Stainless Steel, Soft 302 & 316 Stainless Steel, Brass, Aluminum and Soft Carbon Steel. We carry glass from one millimeter to ten millimeters. In addition we stock plastic balls in Polyethylene, Polypropylene, Nylon, and PTFE. Any other materials are custom made to your requirements.
See:
Call (323)582-7348 or fax today with your specific requirements.